Understanding unstructured data…
An estimated 80-90% of the data generated and stored in every organization remain unstructured, and their volume keeps increasing at a high rate. A Deloitte survey released in 2019 found that only 18% of organizations are able to utilize such data and the untapped riches they can hold. When left dormant and not put to good use, this source of tremendous added-value can be permanently lost.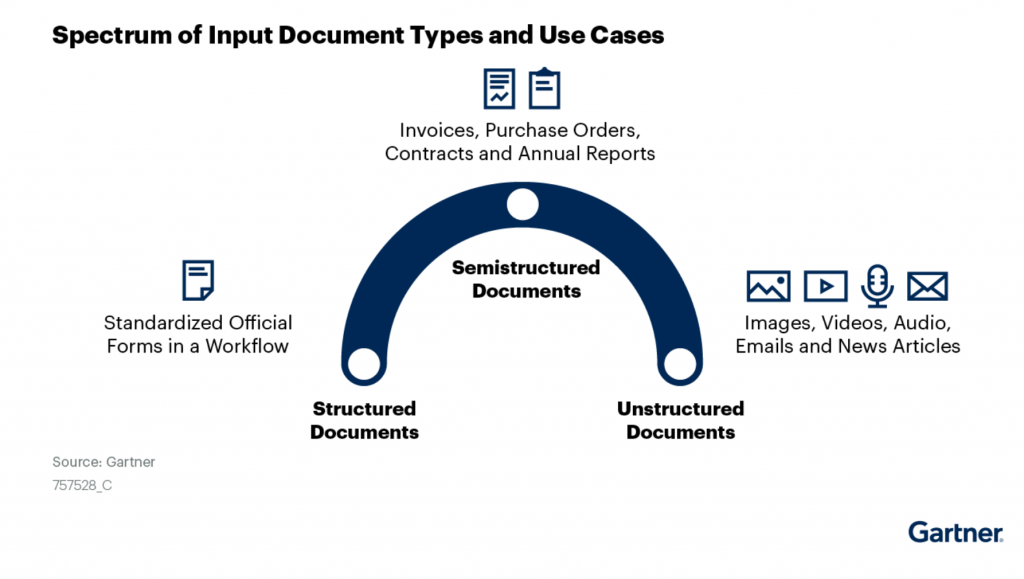 The market is thriving with automated content extraction systems that turn data into information and enhance understanding.
Although most platforms can deal with structured and semi-structured data
effectively, only a few of them can process unstructured data successfully. And moreover, the number of players capable of processing unstructured rich media data is even lower!
Indeed, Gartner®mentions the ability to manage unstructured data as one of the differentiating capabilities of Intelligent Document Processing (IDP) Solutions :  
…to get value from it!
Data Management Semantic Platforms, like those of Perfect Memory, not only ingest and classify structured and semi-structured data along with unstructured data, including rich media, but also offer a complete set of microservices. Thanks to
the combined action of semantic technologies (knowledge graphs) and AI microservices, any data and content type is collected, interpreted, and transformed into assets that operational teams can easily use within the right business context.
Data Management Semantic Platforms that transform unstructured data into usable information, facilitate the search and analysis of documents. But above all, thanks to the high modularity of how data and their links are displayed (360° view), such plateforms adapt as closely as possible to the specific business needs of the end-users of the data.
For example, in the media sector, let's break down how Perfect Memory retrieves unstructured data from a video. Speech-to-Text allows recovery of the audio bank. Facial Recognition and Named-Entity Recognition allow not only the recognition of people but also of concepts. All of this data is then mapped onto the knowledge graph, making it possible, for example, to find the precise moment in a video when « Joe Biden » is mentioned. Concept Crossing allows, for example, to find the precise points in the video where the concepts « Joe Biden » and « NATO » converge, when Joe Biden evokes the subject of NATO.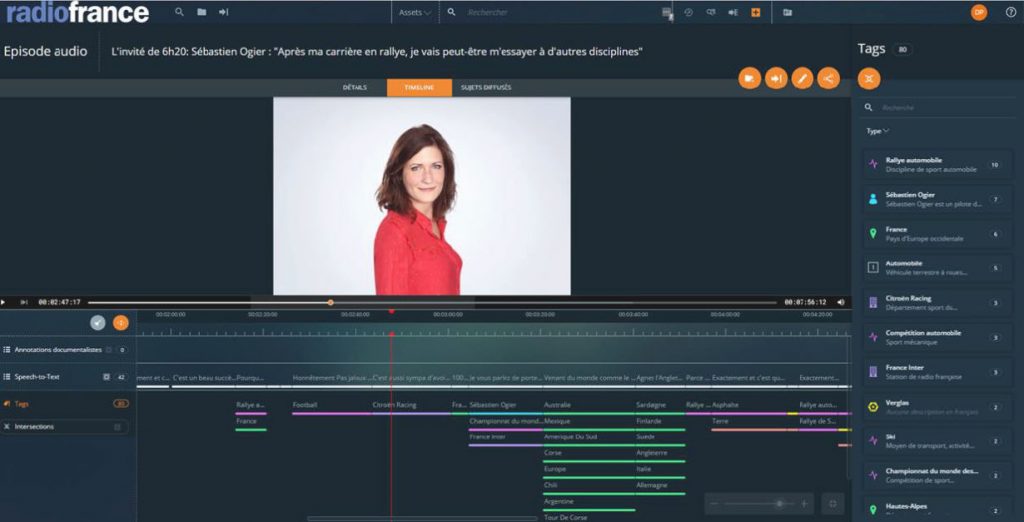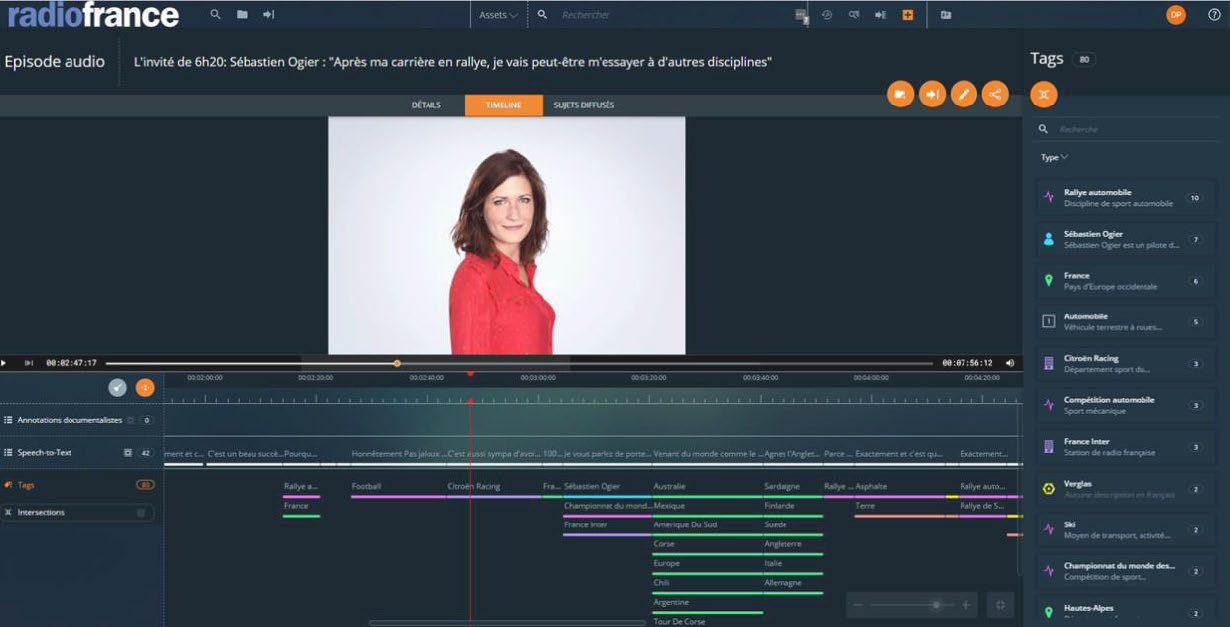 Let's see another concrete example in a completely different sector: Real Estate and legal verification of rental contracts. Thanks to upstream scanning processes, key information from real estate contracts – which are by nature unstructured – can be extracted, such as: the rental price, the surface area, or the rent index, and this information is cross-referenced with the data contained in a customer database to verify the correct application of the legal clauses provided for in the contract.
It is important to understand that semantic data management platforms are a non-invasive technology, in the sense that they do not replace the
data architecture already in place in the enterprise. They are positioned as a unifying layer on top of data silos (data lakes, IT ecosystems…). They allow data to be grouped around concepts, and to navigate intuitively within all the
facets of data that make up the concept. This approach is particularly suitable for enriching a data fabric with a data abstraction layer and making it immediately usable. This allows deployment of a composable architecture in a simple and fast way.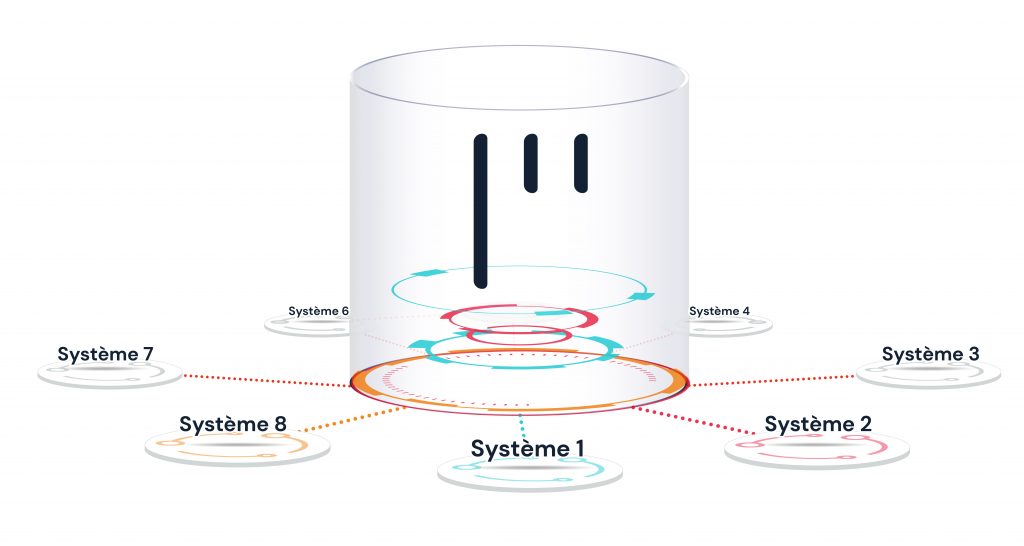 Semantic technologies offer a strategic view of data 
In its market direction analysis, Gartner foresees that one of the main drivers of the IDP market will be linked to semantic technology development:
Data management semantic platforms, like those of Perfect Memory, is all
about making sense of data, making it manageable, useful, and valuable. Perfect Memory is positioned as an enterprise level solution. Exploitation of this large amount of data is key to giving businesses a competitive advantage in their respective markets, or in solving recurring operational problems in an innovative way.
With semantic AI solutions, businesses can finally get a handle on all that data
they've been collecting but haven't been able to do anything with. The deployment
of such technologies in clients' ecosystems is the digital equivalent of philosopher's
stone, readily turns unstructured data lead into valuable knowledge gold.
Looking for more information about IDP solutions?
Gartner, Market Guide for Intelligent Document Processing Solutions, Shubhangi Vashisth, Anthony Mullen, Stephen Emmott, Alejandra Lozada, 16 February 2022
Gartner is a registered trademark of Gartner, Inc. and/or its affiliates in the U.S. and internationally and is used herein with permission. All rights reserved
This graphic was published by Gartner, Inc. as part of a larger research document and should be evaluated in the context of the entire document. The Gartner document is available upon request from https://www.perfect-memory.com/market-guide-for-intelligent-document-processing-2022/
Gartner does not endorse any vendor, product or service depicted in its research publications, and does not advise technology users to select only those vendors with the highest ratings or other designation. Gartner research publications consist of the opinions of Gartner's research organization and should not be construed as statements of fact. Gartner disclaims all warranties, expressed or implied, with respect to this research, including any warranties of merchantability or fitness for a particular purpose.