DAM-As-A-Brain: when content becomes business assets
Our DAM-as-a-Brain solution uses the power of cognitive sciences to make content accessible, enriched and valuable for your business.
Import
First, our DAM platform ingests all types of unstructured data from many different sources to compile it into a single frame of reference. This way, all of the assets of a company are translated into the same language, in a smart interface that makes them easily retrievable.
Content processing
The ingested content is then processed through our Perfect connectors powered by artificial intelligence. This allows to extract meaningful, tangible data from any kind of digital or rich-media file. 
Depending on its nature, it connects with different deep-learning based tools to be analyzed and interpreted in an automated way. We employ processes such as named entity recognition, video analysis, face recognition, speech to text, natural language processing, and semantic segmentation annotation.
Enrichment
Based on the extracted information, Perfect Memory's solution generates automated content annotation and enrichment using artificial intelligence. This process can be complemented with manual enrichment, thanks to a simple yet complete user interface.
Using the power of semantics, our platform automatically generates metadata and content annotation, to make it the most valuable and actionable for your business.
Indexation
Next, content is indexed in an intuitive platform with custom facets, tailored to your business needs. This is where digital rights application can take place.
This smart indexation helps simplify retrieval and version management, as all of the files are tagged and indexed according to your specific taxonomy. Perfect Memory's highly scalable interface allows to optimize every action on your content: search, consultation, editing and tagging, export and sharing.
This operating method results in rich content, easily managed, ready to exploit and publish.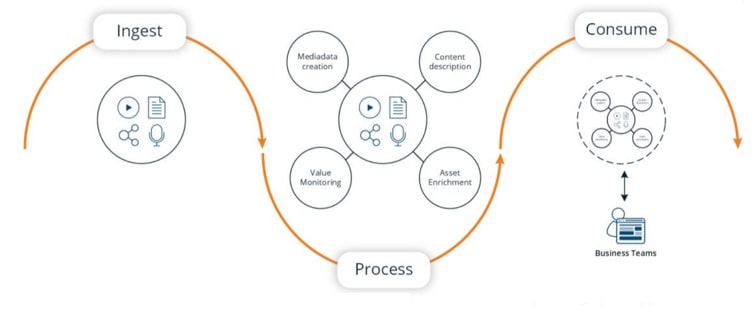 Need more information?
Contact us!