Here is how the 2022 Las Vegas CES went down for Perfect Memory. For our 5th participation, we had a unique opportunity to deep-dive into the wonderful world of semantic AI along with some of the biggest high-tech fishes.
Digital venue meets physical space; it's the best of both worlds
Following a two-year hiatus, CES returned home: in 2022, Las Vegas was once again the capital of innovation over the three-day event (Jan 5-8). However, they introduced a new hybrid event format. Part of the show was held in an epic digital venue, while the other was split between 11 physical venues spanned over  1.4 million net square meters of exhibit space.
Perfect Memory was among the 30% lucky few that flew in from outside the US to the exhibition center for in-person meetings and visits. We were part of the crowd of 40 000 people who rallied the city of Las Vegas but probably the only ones out of Clermont-Ferrand! The show went again at pushing back the limits of what we considered technologically possible.
The 'Sin city' as it is known to some, is home to the most spectacular tech innovations and never ceases to amaze even the veteran visitors. The shows in-between luxurious hotels and large casinos add to the whole out-of-this-world experience that makes of CES the perfect place to mix business, innovation and the American dream.
The event is in a league of its own. Riding a mechanical bull in the middle of a random street or zip-lining above the bright maze of Vegas between two meetings with high level industry players wouldn't be out of place here. It is, after all, the city of opportunities.
Perfect Memory was intent on missing none of them.
This year's edition did not disappoint despite some last-minute cancellations from some major exhibitors — Meta (ex-Facebook) being chief among them — innovations in robotics & machine intelligence, immersive entertainment, digital health and fitness wearables, vehicle technology, blockchain, smart cities & 5G, sports technology and a lot more, left those in attendance starry-eyed. It gave us a lot to think about as we ponder our big leap to the US market next year.
And what would CES be without its iconic highly inspirational keynotes featuring some of the most prominent industry leaders? Major CEOs such as Jong-Hee Han from Samsung Electronics, Mary Barra from General Motors and Robert B. Ford from Abbott shared their vision of today's innovation through insightful market observations.
An intense and promising journey for our team in the city of superlatives.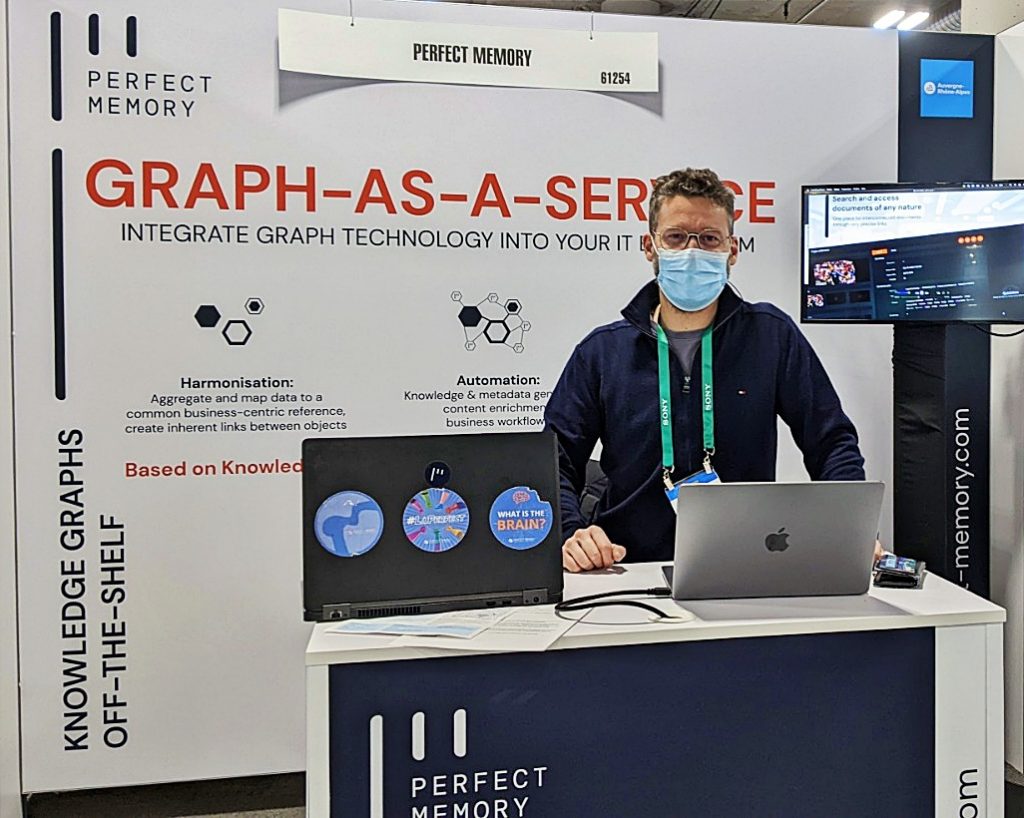 A major tech event for the completion of our strategic objectives
CES 2022 presented Perfect Memory with the opportunity to accomplish a number of goals. Firstly, we wanted to raise the notoriety of our brand and make a case for the semantic approach on operational day-to-day problem-solving. The end game? Gaining credibility with the big players of the market.
Secondly, we put forward the progress and innovation made by our R&D in the field of knowledge engineering through our Graph-as-a-Service technology offer. We believe the topic of knowledge management will be widely discussed among decision-makers in 2022.
Moreover, in addition to enhancing Perfect Memory's visibility and driving sales, our team on-site also sought to enhance brand awareness. We had a major opportunity to meet potential partners at the CES and forge first contacts with them to further expand our reach and prepare our next big development step.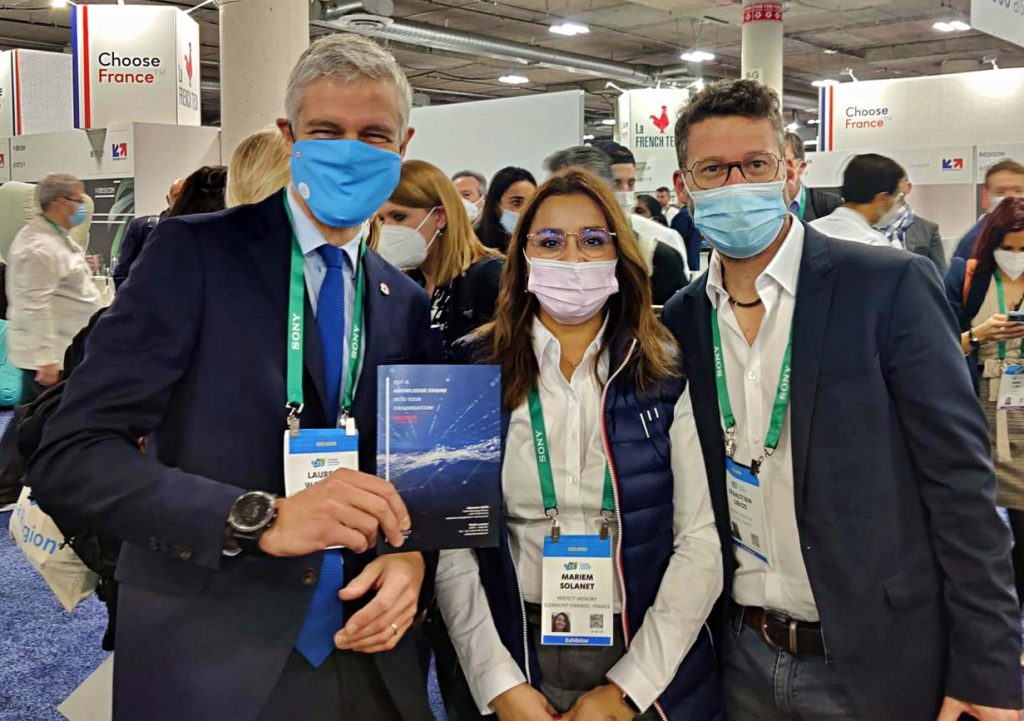 To develop indirect sales, our presence on the ground was crucial. In addition to its strategic value, it also marked a critical step toward our goal to successfully enter the American market by 2023.
Born to stand out: zebras on the horse track
If major corporations attend Las Vegas 2022 CES despite the challenges set by the ongoing health and safety restrictions, it's because the likes of KPMG, Capgemini, the Rail Union and other industry leaders have found in CES the perfect innovation playground. It's in this unique setting that unlikely encounters happen and international market players from all sizes and walks of life come to exchange valuable pieces of intel and initiate contract deals, for instance.
As a matter of fact, international companies' presence gave us a chance to perform as a peer among them. But as many of them display the latest hardware tech products, Perfect Memory with its B2B software offering actually stood out as both a potential partner and a strategic supplier. We were the zebra on the horse racing track.
As a result, this particular positioning paid off: we brought back home a long list of promising contacts after formal and informal exchanges on our booth. Many were enthused by the prospect of a French technology provider with an expertise in AI semantics shaking the grounds of the data world in 2022.
A total of 25 international journalists spoke with us, we sat through several interviews, and we had a chance to meet important decision-makers of big European companies before our 21 hours flight back to Clermont-Ferrand. It was no small feat as most of these valuable contacts are not as easily reachable back in their home front, scattered all over the world.
Only a few days in 2022 and our small zebra company is already taking giant steps forward on the digital business track!
Keep up with us on Twitter, LinkedIn and Instagram to stay up to date on our next business adventure!